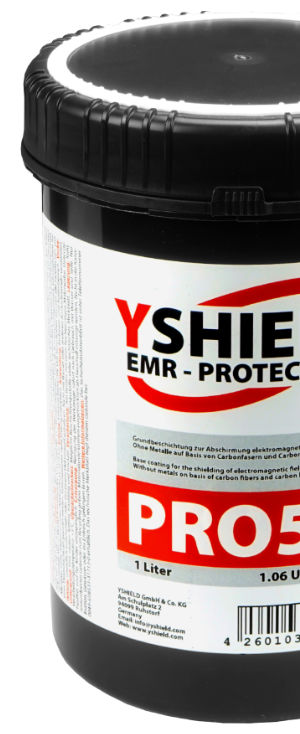 The PRO54 shielding paint by YSHIELD is a pure acrylate and contains NO GRAPHITE for the first time, which has many advantages. Lower attenuation per coat. Two coats are necessary!
A big problem with graphite shielding paint (fading) is solved with this variant of the electrosmog-shielding paint. All graphite-based shielding paints are shock-sensitive, turn black and become visible on the painted wall. However, graphite is needed for a high shielding attenuation against mobile radiation (high-frequency electromagnetic radiation). The PRO54 shielding paint is a compromise between the best shielding effectiveness possible and practical use.
The shielding effectiveness per coat is approx. 10 dB lower because of this lack of graphite. This is considerably weaker when you realize that 1 dB more means double the shielding effectiveness – TWICE AS STRONG. For this reason, two coats of PRO54 shielding paint are necessary. You will be able to get shielding attenuations of 35 to 40 dB that shielding paints with graphite get. In our eyes, the slightly higher cost of the double coat is offset by this paint's many advantages. If needed, a third coat can be recommended for walls with a lot of radio pollution.
Convincing properties of the PRO54 shielding paint
Technically speaking, the PRO54 shielding paint is our most developed paint. However, the lack of graphite makes the PRO54 shielding paint unique. The further advantages are:
No colour fade: no discolouration when painting over with white wall paint, for example.
Shockproof: Shocks against the wall paint no longer cause black stripes.
Rough surface: Painting over the shielding paint is almost ideal. The surface of the PRO54 shielding paint film is microporous and rough and offer a nice substrate to top coatings for excellent adhesion.
Resistance: PRO54 has an extremely high adhesive strength (adhesive force on the substrate) of 4.8 N/mm². That is twice that of regular graphite paints.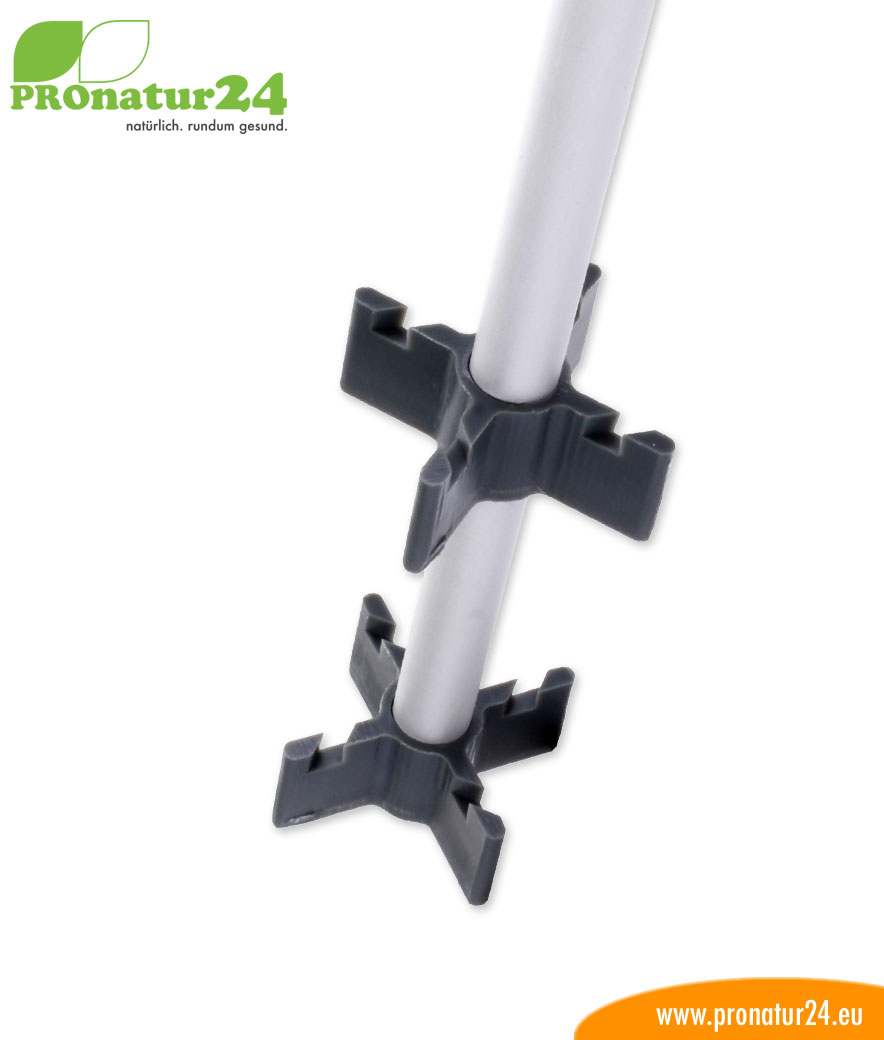 Yield of the PRO54 shielding paint
Generally speaking, the yield of a shielding paint is necessary depending on the surface. The more the surface "sucks", ie. is colored, the more shielding paint is required. We recommend conducting small tests to see how quickly the paint "enters". We highly recommend using our primer because that will prevent an excessively-high usage of PRO54 shielding paint. The "average" yield is based on a "non-sucking" surface.
Up to 7.5 m² per liter is enough for INDOOR USE of PRO54
(one layer up to 7.5 m², two layers up to 3.75 m²)
Up to 5.0 m² per liter is enough for OUTDOOR USE of PRO54

You need to mix the PRO54 shielding paint extensively before applying it. The heavier ingredients will have sunk from storage and transport, and this must be corrected. With our stirrer, it is possible to effortlessly and effectively re-mix and re-apply the PRO54 shielding paint. Simply insert it into a standard electric drill and mix for around 5 minutes per container. There should be no more solid remains of the solid ingredients at the bottom of the container – these would make the shielding less effective because they wouldn't be put on the wall, but they'd remain in the paint bucket.
Stirrer for shielding paints
GK5 primer
Mandatory grounding of the PRO5474 shielding paint
All electrically conductive surfaces must be grounded by a qualified electrician in accordance to the DIN/VDE regulations. This can be done over the electrical system's grounding support (ground contact in the socket) or on the grounded heating pipe of the wall heaters (radiator). A protective circuit also needs to be installed in the fuse box. It must be noted that the circuit must be turned off before painting – a 230-volt, 16-amp shock can be deadly! The electrified flush-mounted box must be a centimeter away when painting the wall.
Electrical alternating fields can be grounded, contrary to mobile radiations (high-frequency) which are based on reflection and cannot be grounded as a result. A protection against mobile radiation is also based on reflection whereby the electromagnetic radiation is prevented from entering the room.
The PRO54 shielding paint shields against both emissions by grounding and reflecting electromagnetic radiations.
Self-adhesive conductive grounding tape for shielding paint
Conductive carbon fibers as an invisible alternative to the ground tape
PRO54 shielding paint technical information
PRO54 shielding paint technical information
One coat: 25 dB (7.5 m²/L) to 30 dB (5 m²/L). Two coats: 35 dB (3.75 m²/L) to 40 dB (2.5 m²/L). The shielding attenuation is often measured in the EMC laboratory. The measurement setups used follow these standards: ASTM D4935-10, IEEE Std 299-2006, IEEEE Std 1128-1998, ASTM A698/A698M-07.
Application (coverage)
One layer (5 – 7.5 m²/L), two layers (2.5 – 3.75 m²/L).
Underground
Interior and exterior: Excellent adhesion on almost all undergrounds like existing emulsion paints, sheetrock, wallpaper, cement, plaster, masonry, wood, etc.
Top coating
Preferably covered with plastic bonded, water-based emulsion paints, dispersion silicate paints, facade paints or silicon resin paints. Not applicable are pure mineral paints (clay, loam, chalk, silicate). Please find appropriate product recommendations in the technical data sheet. Due to the high adhesive tensile strenght (to ETAG 004 for EIFS-systems, minimum 0.08 N/mm²), applicable directly under pure organic plaster, no mineral pasters!
Grounding
Must be grounded! For indoor use, we recommend our self-adhesive grounding tape and GW grounding plate GW (GB) and GP earth plug, and we recommend the AF3 fiber additive and GE grounding plate for outdoor use.
Ingredients
Water, pure acrylate dispersion, carbon fibers, carbon black, additives, preservatives (MIT, BIT).
Technical details
VOC content: 0.2 g/l (the EU limit for the A/a category is 30 g/l since 2010). SD value: 0.1 m. PH value: 8. Tensile strength: 4.8 N/mm². Shelf life: 12 months. Color: black.
Documentation of the PRO54 shielding paint (.pdf)
Technical data
Shielding report
Fire reaction report DIN 4102-1
Technical data about shielding paints from YShield