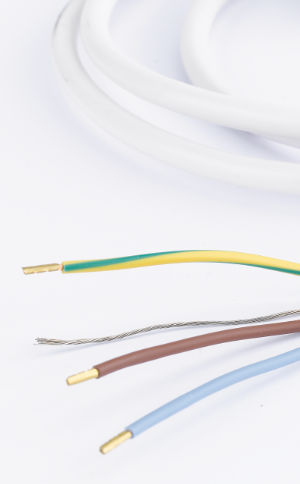 (H)05VV-F3G shielded electric cable to prevent LF electrosmog from the cable. This BIO electric cable is very flexible and designed for mobile use.
Shielded installation cables, or so-called shielded sheathed cables, are needed to stop electric fields in cabling in buildings. However, if a commercial extension cable, power strip or appliance is connected to an electrosmog-free socket, new electrosmogElectrosmog is a colloquial term for all emissions from electric, magnetic, and electromagnetic fields. More will be generated through this "new" cable, starting from the plug and ending at the device (TV, iron, computer, or bedside lamp). This is where this shielded (H)05VV-F3G electric cable comes into use. The protection from LF electric fields is pursued from the protected wall to the device or consumer.
This shielded (H)05VV-F3G electric cable is very flexible, as is its usage for mobile consumers. LF electric alternating fields are effectively shielded from by it. Furthermore, the wires in the (H)05VV-F3G electric cable are twisted 15 times per meter to significantly diminish the existing magnetic field.
Application of the (H)05VV-F3G shielded electric cable
The flexible (H)05VV-F3G BIO electric cable is generally suitable for the exchange of existing consumer cables. However, there are already prepared shielded electric cables with shockproof plugs for exchanging cold-device cables. The same applies to power strips or manufactured cold-device cables. If the prepared cables are too short or unusable for other reasons, however, this shielded (H)05VV-F3G electric cable offers a very good option to build the necessary BIO electric cable yourself or to have it built by an electrician.
Available variants of the (H)05VV-F3G shielded electric cable
| | |
| --- | --- |
| Wire count / size | Outside diameter |
| 3 x 0.75 mm² | 6.6 mm |
| 3 x 1.5 mm² | 8.6 mm |
Construction of the (H)05VV-F3G shielded electric or BIO cable

1) Single-wire copper conductor
2) Insulation: polyvinyl chloride
3) Wire: copper min. 0.34 mm²
4) Screen: plastic-coated aluminum tape
5) Outer casing: polyvinyl chloride
Technical information on the (H)05VV-F3G shielded electric cable
Power load according to IEC 320-1: 6 A
Supply voltage: 250 V / 50 Hz

Outside diameter: 6.6 mm
Protection category 1 (with protective conductor)
Quantity: In rolls of 1.0 running meter. If tailor-cut for a customer, it cannot be revoked or cancelled. Request a free test sample before ordering.
Application: Reduction of LF fields
Field type: LF (low-frequency electric alternating fields)
Color: White
No cancellation for the shielded electric cables

Like for cuts, there is no right to return shielded electric cables.

Please note that cancellations do not apply to these products, because they were cut to the customer's specifications. Reselling a tailored item is no longer possible.
Documentation for biological electrical installations in construction
Technical data
Connecting and groundingGrounding is an electrically conductive connection with the electric potential of the ground. More shielded cables and sockets