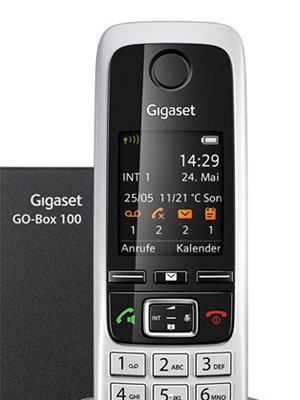 Gigaset C430A GO Hybrid DECT cordless telephone (analog and VoIP (ALL-IP)) with answering machine
With the new Gigaset GO product range, Gigaset presents cordless telephones that, in conjunction with smartphones and Internet-based services, bring new qualities to landline telephony. With their characteristics as IP telephones, they are especially suitable for the new, IP-based landline connections of Deutsche Telekom, which are becoming more important within the all-German network.
The Gigaset C430A GO is optically convincing with its simple, functional design and its effective functionality. The excellent big, lighted TFT color display can be adjusted to a black or light background and ensures excellent legibility and navigation. The large address book, that has room for up to 200 entries with three numbers each, is also impressive. Hats off!
ECO DECT: energy-saving and radiation-free
The Gigaset C430A's energy-saving power supply consumes less power and is therefore better for the environment and your wallet. Like all Gigaset cordless telephones, this model also reduces the transmission power depending on the distance to the base station. By simply activating the ECO mode, the transmission also goes down by 80%. Another plus: with the ECO+ mode, the telephone becomes radiation-free when it is on standby.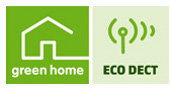 Warning: The ECO DECT mode is not pre-activated. This must be manually actively – ideally after registering the mobile part. The radio shutdown only concerns the DECT function. Consequently, the integrated Bluetooth function is not equipped as we do not use it.