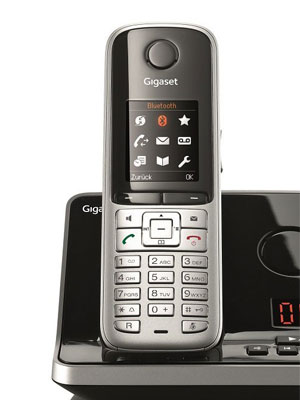 Gigaset S810A – the reliable, high-quality telephone with answering machine for professional telephone calls from home – with optimal conference call
Bring efficiency to your work routine with the telephone for home and the office that is enough for professional demands – with several practical functions and an answering machine: the Gigaset S810A. This telephone is equipped with an unmatched free-speech function. Thanks to Bluetooth connection, you can also use a wireless headset to do other activities effortlessly.
With Bluetooth, it is also possible to transmit contacts from an external source to the Gigaset S810A with just one button. The free-speech function is also ideal to gather several people for a conference call with the Gigaset S810A. The answering machine is easy to operate and offers up to 55 minutes of time to record messages.
And because the Gigaset S810A is also equipped with the ECO+ mode, choose it for an environmentally friendly solution. Discover the Gigaset S810A with answering machine, which meets your demands of professional telephony for home and the office.
ECO DECT: energy-saving and radiation-free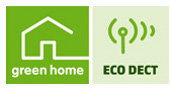 The Gigaset S810A's energy-saving power supply consumes less power and is therefore better for the environment and your wallet. Like all Gigaset cordless telephones, this model also reduces the transmission power depending on the distance to the base station. By simply activating the ECO mode, the transmission also goes down by 80%. Another plus: with the ECO+ mode, the telephone becomes radiation-free when it is on standby.
Warning: The ECO DECT mode is not pre-activated. This must be manually actively – ideally after registering the mobile part. The radio shutdown only concerns the DECT function. Consequently, the integrated Bluetooth function is not equipped as we do not use it.