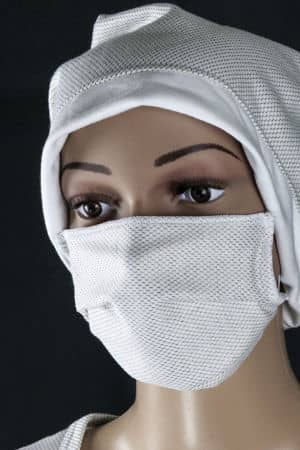 ANTIWAVE protection mask for mouth and nose.. Produced from NEW ANTIWAVE shielding fabric with silver for antibacterial effect. Maximum wearing comfort in a challenging time. Additional protection: >99,9% efficiency against electrosmog for the head.
This is our first product group we see mixed feelings. Legal regulations are currently forcing us all to bear a burden that divides people in terms of meaningfulness. From a medical point of view it is clear that commercially available masks do not protect against viruses, and our ANTIWAVE protection mask is no exception. For such a protection against viruses, masks of class FFP3 are necessary, even FFP2 respirators are not effective enough.
As building biologists we focus on health. When wearing masks, the healthy everyday life outside the own home counts when in contact with fellow men. In our understanding it is about learning a responsible interaction and a hygiene concept in which e.g. proper hand washing is a central topic. Protective masks as we see them everywhere in our daily lives today, protect other people from their own droplets when speaking or coughing. This makes the mask an effective tool against infections.
ANTIWAVE mask. If already necessary, then at least optimally!
The development of this protective mask for mouth and nose took much longer than planned. The perfect timing for the mass rush on masks was not decisive. From this point of view, this ANTIWAVE protective mask is not a good example of optimal marketing for high sales. With our orientation towards building biology, however, quality and effect are the most important factors and with this mask, the maximum possible wearing comfort is added.
Of course, our ANTIWAVE protective mask for mouth and nose complies with the national regulations. But this is not a standard that is sufficient for us.
ANTIWAVE mask is not comparable with usual standard masks.
The basis of the ANTIWAVE protective mask is the NEW ANTIWAVE shielding material. New Antiwave is a highly developed technological fabric for effective shielding against electrosmog HF from smartphones, cell phones, WIFI, etc. and is therefore functionally far superior to any protective mask made of fabric. This means that this protective mask for mouth and nose is also automatically an extended head protection against electrosmog. The woven-in polyamide woven into the NEW ANTIWAVE is coated with pure silver and thus has an antibacterial effect, which in turn further enhances the mask's protection & hygiene function. This coating consists of 20% pure silver which surrounds the entire polyamide fiber. No nanosilver is used. The metallic silver is absolutely harmless for human health and nature.

Sophisticated technology for maximum effect and wearing comfort
Due to the innovative construction of the mask and the use of a second layer of knitted fabric, this mask transports moisture better to the outside and feels drier than conventional mouth-nose masks. This second layer has been additionally silver ionized and thus has the same antibacterial effect as the NEW ANTIWAVE shielding material itself. This leads to a very low odour formation and thus ensures a surprisingly long and pleasant wearing comfort.
ANTIWAVE protective mask for mouth and nose is intended for daily use, and the quality of workmanship is correspondingly high. The protective mask can be washed and steam-ironed up to 60x at 60° C.
Regularly we were told about skin problems when wearing masks – we wanted to change this as well. By using the precious metal pure silver as a conductive material, we wanted to achieve a maximum reduction in skin irritation or none at all.
More details about the protection mask for mouth and nose
Rectangular: 16cm x 8cm
without integrated bracket
3 wrinkles mask / covers mouth and nose / closes very well with face at the sides
Maximum shielding effectiveness: 33dB
Maximum EMF Effective range: >99,9%
Raw materials: 89% cotton, 9% polyamide, 2% silver, PES 100% silver ionized
Washability: 60°C – steam ironable
Care of the ANTIWAVE mask
Washing at 60°C. With suitable detergent up to 60 wash cycles. Gentle steam ironing on level 1. Do not tumble dry. Do not bleach. Do not dry clean. For allergy sufferers: Every new fabric smells, wash before first use! We recommend TEXCARE or our ecological, vegan UNI SAPON detergent.
General information about NEW ANTIWAVE shielding material
For large area shielding of high-frequency electromagnetic waves
Very good tear resistance with soft quality, antistatic, elastic
100% textile properties
Elastic knitted fabric for various applications
The quality of New Antiwave is a right-left jacquard knit in a combination of combed cotton and silver-coated polyamide.
The coating is not made of controversial nanosilver, but of 20% pure silver, which surrounds the entire polyamide fiber. The metallic silver is absolutely harmless for human health and nature.
Pure silver has a natural antibacterial effect and can also have a positive effect on skin problems as well as excessive sweating and body odor.
Documentation on NEW ANTIWAVE shielding fabric (.pdf)
Technical deatils New Antiwave shielding fabric