Contactless payment with RFID NFC is modern and convenient. What about safety? No more problems with these wallets and purses with integrated protection!
It will become the norm in a few years. You'll go shopping in the supermarket but the desired items in your shopping bag. You'll walk straight out of the exit and off to the next appointment. Anything missing here? Any ideas? That's right – paying at the checkout. It's now fine to pace through the exit. In the future, paying will be a minor matter sorted out automatically by radio scanning. Modern technology, such as RFID and NFC make this possible.
RFID and NFC are modern, convenient, and an invitation for data thieves
However, it seems as though they push the safety of your personal information to the background. The risk is more relevant than ever. It has never been easier to come across personal data. With RFID and NFC, it is possible to steal card numbers and personal data, even at a distance. All that is needed is a mobile scanner and a stroll through the shopping center. The scanner only needs to be held close to the handbag or trouser pocket for a second for the data thief to get all of the information needed to go shopping at your expense, for example.
EC card data
Credit card number
Bank card data
Personal information on all types of passes
Biometric information on your passport
etc.
Details on RFID and NFC - how they work and dangers
Wallets with integrated RFID NFC protection solve the issue of data theft from the start
If the wallet or purse already has the necessary protection from unauthorized reading of your personal information via RFID and NFC, you have chosen the best solution. At least as far as the daily shopping payment process is concerned. For passes, such as the passport, a separate protection is needed. Regardless of how and where you store your RFID NFC wallet, in your trouser pocket or handbag – all card data and personal information on the pass are protected and safe.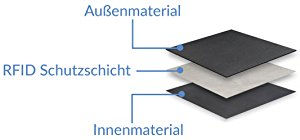 A highly-effective shieldingShielding is the protection from the effects of external fault zones and environmental influences (on a person's health most of the time). More film – the anti-RFID protective layer – is sewn in between the wallet's material layers and protects from electromagnetic radiation and almost builds a Faraday cageThe faraday cage is an enclosure made out of a conductive material that acts as an electric shield. More around the contents of the wallet. PROnatur24 uses related and even more effective technology on a much larger scale to protect bedrooms, laboratories, and whole buildings from external emissions from electrical lines and transmitters.
Because we have been working professionally in the shielding field for many years, we are familiar with the crucial protection from electromagnetic radiation. It doesn't matter if the human organism has to be protected from electromagnetic radiation or if personal data has to be protected from effective access technology via electromagnetic radiation. Only the frequencyFrequency is the number of occurrences of a repeating event per unit of time. It is a physical measurement that is important for describing periodic processes, such as vibrations. More to protect from is different, it is much easier to achieve this for RFID and NFC with just 13.56 MHz and a passive transceiver system.
Protection already integrated into the wallet has crucial benefits
An alternative RFID NFC protection system based on an almost late "upgrade" to a wallet in use, the RFID NFC wallet already has all of these advantages from the start.
✅  SEVERAL CARDS ARE PROTECTED
Depending on the type of wallet, several card slots are provided which can easily be pushed out with the thumb.

✅  PHYSICAL SHIELDING AS RFID PROTECTION
The material sewn into the wallet contains an RFID-blocking inner lining and protects all cards laying inside and outside of it from data theft via RFID & NFC scanners and readers.


✅ 

NO BATTERY NEEDED
Because the shielding protection is based on reflective technology, the shielding technology does not need its own energy supply. It is comparable to the RFID protective covers into which cards are inserted.

✅  PREMIUM QUALITY AND ELEGANT MATERIALS
Depending on the chosen model, you can choose between cheap models up to high-quality shielded wallets made in the EU.
✅  IDEAL PRESENT WITH ADDED VALUE OF SAFETY
The RFID NFC blocker card is a great present for men, women, fathers, mothers or friends. A modern present for optimal data security.