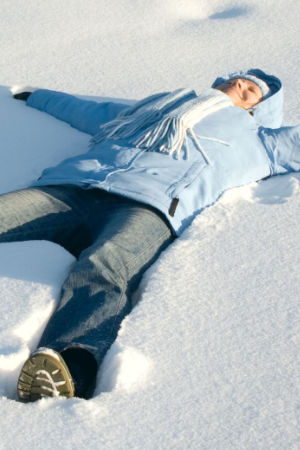 PROnatur24® sun cream set for SKIING. SPF 30 and SPF 45 with great additional options. Mineral sun protection for unbridled fun in winter and while skiing, with no chemicals!
The best possible protection for the skin also takes priority in winter. The dose of UVA and UVB on the facial skin is significantly increased by the additional reflection of sun rays in the snow. The sensitive facial skin is also attacked by the low temperatures – even more so during active winter sports, such as skiing or tobogganing.
Our great sun cream with mineral light protection is waterproof and is suitable for the whole year. We have provided the special WINTER SUN edition for the winter while skiing, for example. Our SPF 45 sun cream, with a considerably higher SPF 45, and full of with the most valuable native skin-care oils, such BIO shea butter, BIO pomegranate, BIO sea buckthorn oil and BIO evening primrose oil, protects and heals facial skin, even at low temperatures and high altitudes in the mountains and on the ski slopes.
SKIING SUN CREAM SET WITH 10% SAVINGS
Our sun creams focus on 100% EFFECT and 100% NATURE. This automatically means 100% WITHOUT COMPROMISE and our sun protection has an appropriate price because of the considerably high production costs. Nevertheless, the health of our skin and body must be valued to get the best possible protection. In winter, this protection is in the form of appropriately warming clothing and ideal protection for our skin.

20% savings with summer sun protection set with additional options
You receive two excellent skin protection products with highly-effective sun protection for the summer and thereafter: 100 mL SPF 30 sun cream and 50 mL SPF 45 sun cream. Both PROnature24 sun creams in the set also have a 20% discount for immediate savings. We have also added a further option to this sun protection skiing set that is ideal for the cold season and for safe, skid-proof movement on snow and ice.

The special thing about our sun cream: GREAT EFFECT, PURE NATURE AND NO CHEMICALS

We wanted to know, and "this is not possible" was out of the question. The following list were our requirements for a sun cream, everything else was out of the question – an absolute no-go!
Sun cream WITHOUT crude oil
Sun cream WITHOUT parabens
Sun cream WITHOUT PEG derivatives
Sun cream WITHOUT microplastics
Sun cream WITHOUT nanoparticles or nanotechnology
Sun cream WITHOUT zinc oxide
Sun cream WITHOUT allergens
Sun cream WITHOUT alcohol
Sun cream WITHOUT perfumes
Sun cream WITHOUT synthetic safelight filters
Sun cream WITHOUT synthetic colorants or synthetic fragrances
Sun cream WITHOUT synthetic preservatives
Sun cream WITHOUT animal research and VEGAN
Sun cream WITHOUT bitter taste in the mouth when it gets mixed with sweat – while exercising, hiking, swimming, etc.
It might sound surprising, but an effective sun protection also works without crude oil and without the chemical mace in your luggage. All of these components in commercial sun creams can lead to irritation and allergic reactions on the child's or baby's skin and in their body. And that is why we have put our first protective product on here. PROnatur24 SPF 45 sun cream for skiing and tobogganing – for the love of the body in BIO, even though it doesn't say so.

PROnatur24® SPF 45 sun cream – WINTER SUN edition (SKIING) protects and doesn't have a bitter aftertaste in the mouth
What applies to all mineral sun creams also applies to our SPF 45 sun cream. Our sun cream is a sensation that offers the skin great protection from UVA and UVB. Despite the high level of development, a mineral sun cream cannot be applied to the skin as well as commercial sun creams with parabens, microplastics, and chemical additives. However, we do not see a drawback.
The PROnatur24 SPF sun cream brings another side effect to the athletes among us who indulge in winter sports – a flavorful one. Our body inevitably begins to sweat during exertion, this is no different in winter. The applied sun protection on the skin and the sweat automatically mix together and many of you know the bitter taste when this mixture lands in the mouth during exercise. We have taken precautions here and kept PROnatur24 sun cream – winter sun edition tasteless. Just a small side effect that is much appreciated.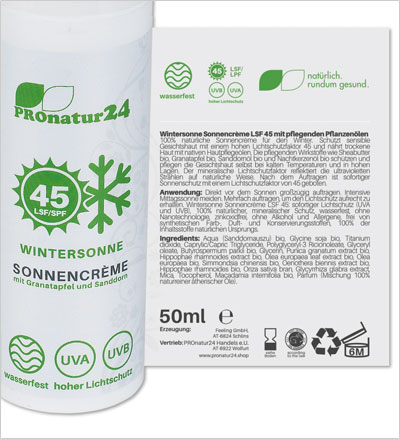 Application of the PROnatur24 SPF 45 sun cream – WINTER SUN edition (SKIING)
Simply apply it extensively on your skin before going, which means applying it on-site at the ski resort..
Helpful tip for applying the sun cream
Put enough cream in your hand, put your finger in it and dab it all over your skin. Then, thoroughly spread and "massage" it in with circular movements. The sun cream is spread nice and evenly this way for all-around protection from UVA and UVB.
Protective effect and contents of the PROnatur24 SPF 45 sun cream
Immediate light protection
Protects from UVA and UVB
100% mineral protection out of titanium dioxide without any nanoparticles
Waterproof
100% natural ingredients
BIO sea buckthorn oil
BIO pomegranate
Karanja oil
Macadamia nut oil
50 ml filling quantity
A few sun protection tips for the Winter Sun sun cream
Apply cream several times! Applying cream once is not enough to protect your skin from the sun for the whole day. Sweating, swimming, abrasion etc. cut the sun cream's protective film on the skin. It is recommended to re-apply cream hourly depending on the activity.
Apply plenty of sun cream all over your body! Sun cream only achieves the stated SPF when it is applied heavily and extensively. Studies make this quite clear – most people don't use enough sun cream. As a result, the protective film is too thin and you cannot get full protection.
natural. just healthy.
PROnatur24 stands for the protection of health. And we stand by our name for the ecologically sustainable handling of our environment – PRO NATUR 24/7. Whereas our active work has so far focused on the protection of healthy sleep, we carry out our "natural .just healthy." Body care line. the next step to actively support healthy everyday life.
PROnatur24 body care can positively influence personal well-being. Our products are 100% free of MLM, network marketing and any structural distribution – with warranty!