Radiation protection takes priority in the bedroom. With the Geovital radiation protection mat, a noticeable effect can be obtained in a very quick and simple manner.
Contrary to before, modern living rooms are rather limited. Most of the time, it is not possible to get a bed that can move the existing fault zones. It needs a bit of technology that solves this "space" problem simply and effectively. In the last 25 years, this radiation protection mat system has proven to be the most constant and efficient system. In addition, its effect can be checked by most users at any time with angle rods. For over 20 years, these mats have also been used in house construction with great success with regards to health.
Proof of its effect and health
A doctoral thesis from the University of Konstanz confirms a health success of 76% with GEOVITAL radiation protection within 3 months. This study is based on work with 15,000 chronically ill patients. Two subsequent state studies (the enormous success felt implausible) had to confirm the actual effect after three years each: three out of four chronically ill patients were healthy within three months with GEOVITAL radiation protection!
3-month satisfaction guarantee
If, despite the removal of existing natural radiation, the effects of the mat do not improve your symptoms, simply return the mat within three months. The full price minus a re-covering fee of €40 will immediately be returned to the customer.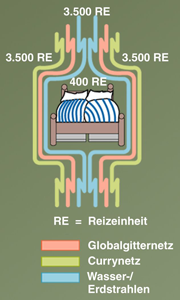 Effect of the GEOVITAL radiation protection mat
The radiation (pathogenic fault zones) that hit the mat are shielded and diverted by a technical interference that is created by the bipolar oscillating circuit integrated into the mat. This technical interference attracts house dust like a magnet which, unfortunately, disrupts the creation of the interference. As a result, you will inevitably have to vacuum, but it is very easily done. The effect can be checked by the inhabitants at any time!
PROnatur24 highly recommends GEOVITAL radiation protection mats for fault zones, such as:
Water veins
Faults
Rock fractures in the ground
Grids
Application of the GEOVITAL radiation protection mat
Shielding of a sleeping space
Floor rehabilitation
Relocation in the screed (construction biology)
It is also possible to rehabilitate an entire floor with the traditional radiation protection mats laid on the floor. It should be noted that there can be no long metal bodies (longer than 30 cm) on the mat because they can prevent the creation of interference.
NO radiation protection mat WITHOUT geobiological assessment
Contrary to grounding or shielding from electrosmog, you can be wrongly protected by the GEOVITAL radiation protections mats, which causes additional health problems. For this reason, it is not possible to order or have a mat delivered without a preceding geobiological assessment.