PURE PREMIUM LACTOFERRIN 330 BY HFQ HEALTH | PREMIUM LACTOFERRIN WITH 330 MG OF THE HIGHEST PURITY PER CAPSULE
Lactoferrin. A Miracle Molecule.

Lactoferrin is a precious and potent protein that is essential for our immune system. Its optimal digestibility and bioavailability in the intestine make it highly esteemed. This immune protein evolved even before our present-day immune system and plays a pivotal role in our health. It can be found in mother's milk, tears, and the intestine. Not only does it bolster our defenses, but it also provides natural iron.
The most crucial aspect of Lactoferrin is its high quality. During the production of Premium Lactoferrin, special emphasis is placed on its purity and the processing methods used. Employing the latest technologies, it's extracted and purified. The freeze-drying process ensures that the Lactoferrin isn't subjected to heat, thus retaining its beneficial properties, including its ability to bind iron.
LACTOFERRIN / PURE / PURIFIED LACTOFERRIN (WITHOUT ADDITIVES)
No fillers or additives & maximum dosage: The HFQ Difference!
Our HFQ Health Lactoferrin 330 mg stands out due to its purity. Unlike many other products, it doesn't contain unnecessary fillers like magnesium stearate. With over 330 mg of pure Lactoferrin per capsule, it's one of the most concentrated products on the market.
HFQ Health's Lactoferrin 330 mg represents the highest quality: It is highly concentrated, pure, freeze-dried, and delivers more than 330 mg of Lactoferrin per capsule.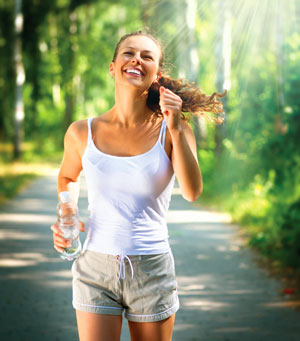 What is Lactoferrin?
Lactoferrin is a protein. This protein is found in almost all mammals, especially in mother's milk. For instance, untreated cow's milk contains about 150 mg of Lactoferrin per liter. It has the capability as a protease to neutralize viruses and bacteria. Furthermore, Lactoferrin can also bind to iron, thereby inhibiting the rapid proliferation of fast-growing cells. It can be released by leukocytes, making it a crucial component of the human immune system.
Since all mammals use the same Lactoferrin, fortunately, it's possible to extract it from cow's milk and utilize it to bolster the human immune system. Upon closer inspection, this protein is an underrated jack-of-all-trades, yet it still remains overshadowed by antibiotics and immunosuppressants.
This protein, Lactoferrin, is a very ancient part of our immune system and can act without the typical known inflammatory responses. This means that for the individual consuming it, there's no swelling, no damage to cells or cellular structures, or the consumption of large amounts of energy.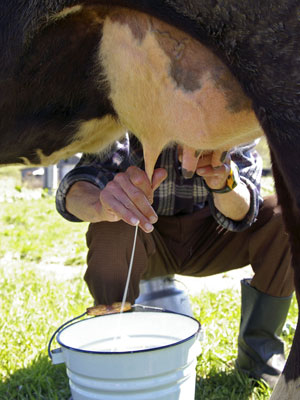 Essentially, Lactoferrin is a substance produced by the body which, when needed, can stimulate the immune system but can also calm it. It has the ability to bind iron, not by depleting the body of iron, but by regulating the body's iron balance naturally. Therefore, even when taking high doses of Lactoferrin, there will be no iron deficiency.
More details about Lactoferrin directly on Wikipedia
Lactoferrin for Iron Deficiency
Lactoferrin, also known as Lactotransferrin, belongs to the Transferrin protein family. Transferrins ensure the optimal distribution of iron in our body. Therefore, it can bind iron not by drawing it from the body, but by naturally regulating iron balance. Thus, even when taking high doses of Lactoferrin, there is never a risk of iron deficiency.
Natural Lactoferrin has an iron saturation of about 10%. This means that with each 250 mg capsule, approximately 25 mg of bound iron is ingested. For acute iron deficiency, a combination with a good iron supplement is recommended.
Lactoferrin or Colostrum Capsules?
Colostrum supplements are widely available and are therefore much better known, having a very similar effect on our bodies. This is because colostrum is derived from cow's milk immediately post-birth (colostral milk). This colostral milk, also referred to as "first milk", contains essential nutrients to optimally prepare the newborn's immune system for environmental influences.
The most crucial ingredient in colostral milk is Lactoferrin, which is ideal for strengthening the newborn's immune system. Therefore, the dosage of Lactoferrin in colostral milk is much more concentrated than in regular milk. Yet, despite this comparably high concentration of Lactoferrin in colostrum, only a few mg of Lactoferrin are contained in colostrum capsules!
From a therapeutic perspective, we thus view the pure substance in a higher dosage as the more attractive and often more cost-effective alternative.
No fillers, magnesium salts (magnesium stearate), binders, or other additives
HFQ Lactoferrin supplements stand out for their purity as they, unlike many competitor products, do not contain unnecessary fillers or additives, but exclusively valuable ingredients.
Fillers such as magnesium salts (magnesium stearate, E 470 b) or rice flour are often used to increase the quantity of dietary supplements. However, this can lead to a reduction in the proportion of actual active ingredients in tablets or capsules.
It seems advisable to avoid such additives in general, as certain compounds can be transformed into potentially carcinogenic substances in the body (ETH Zurich).
One should also differentiate when it comes to sweeteners. Some artificial sweeteners like cyclamate (E 952) should be avoided due to the lack of long-term studies.
Others, even if labeled as an additive or E-number, are naturally occurring and harmless, such as carotenes (E 160a), citric acid (E 330), or pectin (E 440). The data on sweeteners like sucralose has considerably improved since around 2022. Such natural additives can help optimize the stability or taste of a product.
Nevertheless, individual persons may be sensitive to specific ingredients and subsequently experience allergic or other undesirable reactions.
Potential Dangers of Certain Additives
Some additives can also potentially be harmful. For instance, the white dye titanium oxide (E 171), which was classified as unsafe by the European Food Safety Authority (EFSA) in 2021, is still present in some capsule products.
The colorant compounds of the Azo group, such as Tartrazine (E 102) or Azorubine (E 122), are scientifically questionable. Tartrazine was banned in Germany for several years before its EU accession. According to the EFSA, these Azo dyes are linked to rare allergic reactions, can exacerbate ADHD and hyperactivity, and therefore should carry a warning label when they exceed a certain threshold.
Gastric Acid-Resistant Cellulose Capsules Explained
With a typical capsule, stomach acid dissolves the shell and releases its content. Certain substances, such as enzymes, can be destroyed by this acid. Therefore, they cannot exert their effects in the intestine and are not fully transported from the intestinal wall into the bloodstream. Hence, capsule shells that can pass through the stomach without damage are crucial for products like HFQ Health Premium Lactoferrin and other substances sensitive to stomach acid.
Capsules that are resistant to stomach acid (like those for Lactoferrin) only release their ingredients in the intestine. They have a coating that protects them from the gastric acid. This is crucial since the active ingredients are primarily transferred from the intestinal wall into the bloodstream. Research has shown that stomach acid can degrade Lactoferrin by up to 40%. This would adversely affect its absorption capacity, iron regulation, and intrinsic functions (Bellamy et al. 1992). The gastric acid-resistant capsules from HFQ Health prevent this decomposition.
The said capsule only dissolves after about an hour. For optimal efficacy, experts recommend taking the capsule on an empty stomach and then waiting 10 to 15 minutes before eating. This ensures that the stomach is empty and the capsule quickly reaches the small intestine.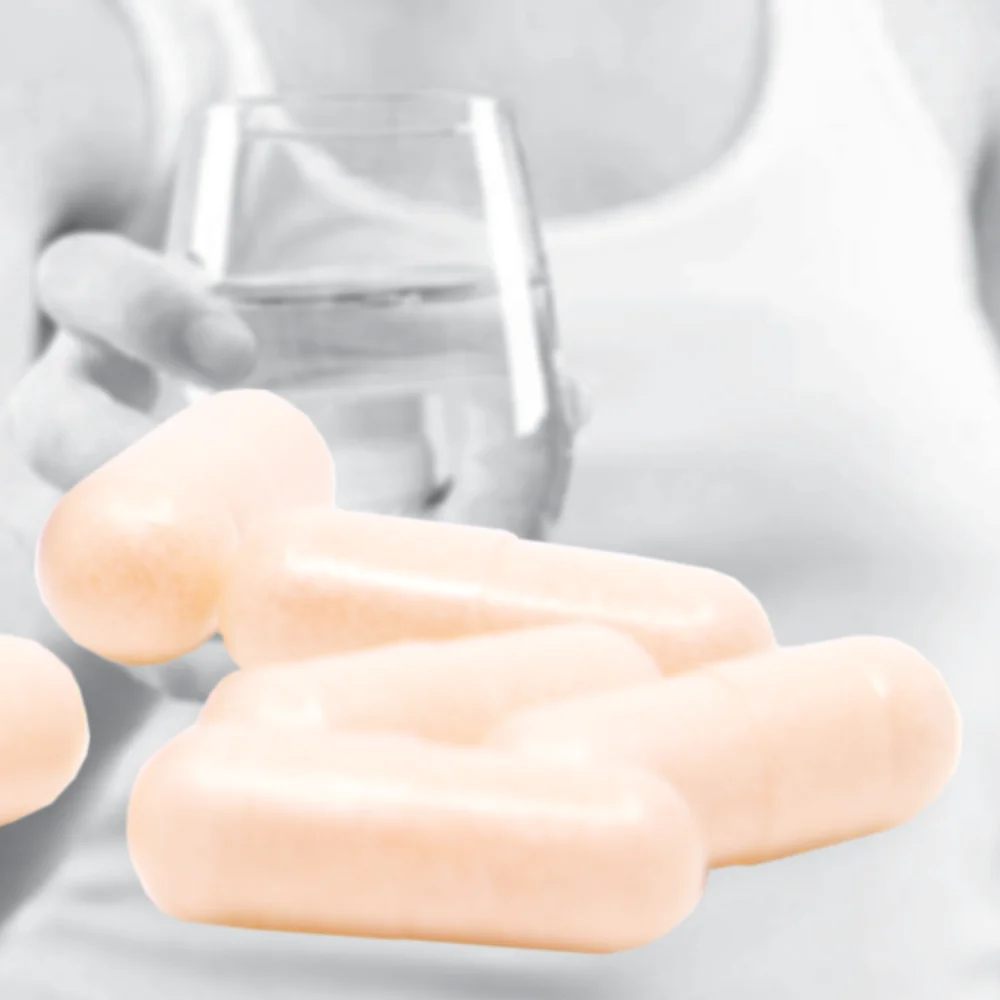 INGREDIENTS
Lactoferrin from cow milk (freeze-dried, lactose-free), Hydroxypropyl methylcellulose (capsule shell)
Product quantity: 40 capsules
NUTRIENTS | OTHER INGREDIENTS
| | |
| --- | --- |
| Content | per capsule |
| Lactoferrin | 330 mg |
INTAKE INFORMATION
Take 1 capsule daily with sufficient liquid.
WARNING
Dietary supplements are not intended as a substitute for a balanced and varied diet and a healthy lifestyle.
Keep out of the reach of small children.
The recommended consumption amount should not be exceeded.
Store in a cool, dry place, protected from light.