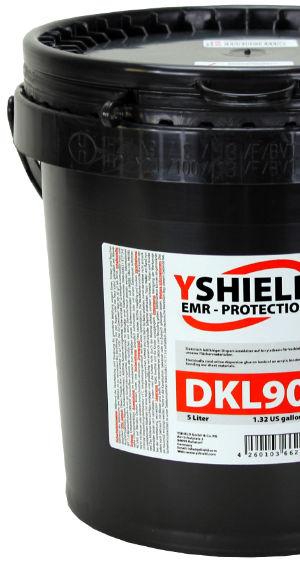 DKL90 dispersion glue is conductive and therefore ideal for gluing our shielding fleeces to walls, ceilings, floors, doors, etc.
The DKL90 dispersion glue was processed the same way as a commercial wallpaper glue or paste. DKL90 is specially designed to glue our shielding fleeces to walls, ceilings, floors, doors, etc. This high-quality special glue has an acrylate base – this is the massive difference between this DKL90 dispersion glues and others – it is conductive. The conductive shielding materials are guaranteed to remain grounded and not just a false glue will be isolated.
The DKL90 dispersion glue is also breathable, low-emission, and solvent-free.
Processing the DKL90
It is processed the same way as a wallpaper paste. Warning: Kinks and wrinkles must be avoided when cutting surface materials. Both the wall surface and the back of the shielding material to be glued are primed with a paint roller. Only when applied on both sides is the electrical conductivity completely present. Then, apply the back of the shielding material to the primed wall and fix with a tube or pressure roller. DKL90 must be processed undiluted.
Work on the wall quickly and strip by strip so the glue does not get dry, that means prepare each individual strip as described before and then put on the prepared wall. DKL90 dispersion glue is medium-viscous and, like dispersion paints, offer little adhesion at the beginning, its strong adhesion comes when it dries!
The resulting odor and evaporation during processing of DKL90 are comparable to those of a conventional wallpaper pasteurizer. Once dry, this will decrease significantly in no time. We also recommend to ventilate frequently for several hours.
Its usage also depends on the quality and absorbency of the surface. The typical yield is in between 17.5 and 25 m².
Interaction DKL90 and our shielding fleece
When processing together with our shielding fleeces, DKL90 can press through, depending on the fleece used. the entire surface becomes darker again in the black color direction. Depending on the shielding fleece used, the fleece can be covered with emulsion paint or wallpaper with suitable wallpaper paste after grounding. We recommend to be advised by the wallpaper retailer.
DKL90 dispersion glue technical information
Especially for our shielding fleeces

Container size: 5 liters
Yield: 17.5 m² – 25 m², depending on the surface
Ingredients: Acrylate dispersion, water, carbon black, additives, preservatives
Surface conductivity: 400 Ohm (square resistor)

Application: Outdoor walls, ceilings, indoor walls, floors, earth

Odor: Usual formation of odor comparable to a wallpaper paste.

Field type: LF (low-frequency electric alternating fields)

Ecology: Normal

Color: Black
Documentation of DKL90 dispersion glue (.pdf)
Technical data