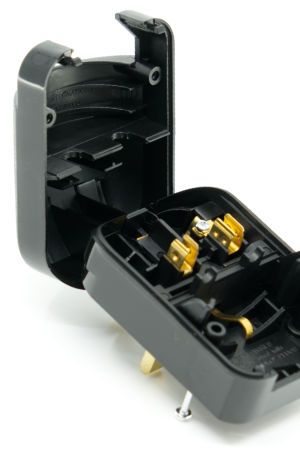 Grounded adapter for the Euro Schuko plug EF to the type G plug (UK). 13A fuse integrated. Ideally suited as a high-quality travel adapter in 2 colours: black and white.
This adapter with earth connection converts the European Schuko plug to a 3-pin British mains plug. For safety reasons, the adapter is equipped with a 13 amp fuse, which can be replaced quickly and easily in a few steps.
This converter plug SCP3 can be used for both the straight and the right-angled 2-pin European Schuko plug. This automatically makes this adapter the ideal travel adapter for the British plug type, which is safe due to its grounding.
Building biology compromise: SCP3 adapter and shielded electrical cables
Even though this adapter is not NF shielded, the quality and finish convinced us. We therefore also recommend it for our shielded LF products with European Schuko mains plug, even if this leads to a clearly measurable reduction of the LF shielding attenuation directly at the point of insertion at the socket.

Grounded adapter Schuko plug EF to UK plug type G in detail
Suitable for straight and most angled Schuko plugs
For connecting devices with Euro plugs to UK sockets
Cannot be plugged in while the cover is open to ensure electrical safety
Compact dimensions
External access to backup
BS approval (approved to BS5733, BS1363, product complies with current RoHS standards)
Material: Thermoplastic PP. Cadmium-free
voltage: 240V, 50Hz
Maximum load: 3000W
Weight: 60g
13 amps fused
Without shielding LF
2 colours: black and white
EASIEST INSTALLATION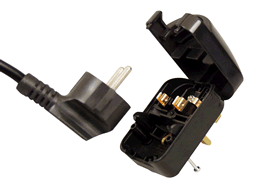 Documentation for grounded adapter SCP3 (.pdf)
Technical data of the adapter
EU Declaration of Conformity