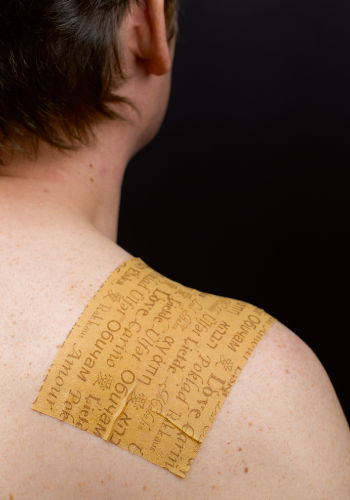 SOLD OUT » NO LONGER AVAILABLE
ALLEVI8 PRO Strips by Dr. Kim
POWERstrips FG Xpress from Forever Green. Special power patch and energy patch for personal well-being. EU Edition in red design with 18 pieces of tape (15 +3 POWERstrips FREE). ORIGINAL tape according to the patent and inventor Dr. Minsoo Kim from Korea.
Today's modern lifestyle is characterised by a hectic pace and pressure to perform. This means that regular rest is more and more often neglected and the typical symptoms of people in our modern society are correspondingly high. These POWERstrips by FGXpress from Forever Green can now be a convenient, new and improved solution to our busy lifestyles.
FGXpress POWER STRIPS EU can provide the body with the much needed relaxation and restoration that the human organism craves. And the application couldn't be easier. Just peel off the protective film and simply press and "stick" the energy patch onto the skin.
The aromatic, calming properties of the POWERstrips can help relieve the body of stress, tension and worry.
We have decided to include the POWERstrips in our product portfolio as an extension of our work for healthy sleep, to buy directly and as a simple alternative to the usual ordering route via the consultant.
Sensational effect of the POWERstrips from FG Xpress
Do you feel that it is time for relaxation? Deep relaxation and enjoyment now becomes the theme. Simple and efficient. If you experience stress and pressure more often due to a busy, demanding lifestyle, rejoice! POWERstrips EU can be a solution. Place the PowerStrips EU on the part of your body that needs relaxation now, that's it. You will feel the tension dissolve.
POWERstrips can relieve tension
POWERstrips can have a calming effect on body and mind
POWERstrips can promote relaxation of the body
POWERstrips have a pleasant scent
POWERstrips can relieve stress and anxiety
Developed in Korea and manufactured in the USA – FGXpress POWER STRIPS are an advanced patented high-tech product. POWERstrips EU use natural elements and energies to create an ideal environment for stress relief. These power patches or energy patches can also have a physically calming effect, helping to better deal with the worries of everyday life.
FG Xpress POWERstrips. In use worldwide. Convincing worldwide.

There is a legal regulation that prohibits the description of the effect of a product on health. This is reserved for pharmacies, and here, too, "healing promises" are rather difficult. Labels such as "Effective for" and "In case of side effects, ask your doctor or pharmacist" are very well known and part of every medicine advertisement.
It is therefore not possible for us as a retailer to list these versatile effects of the POWER Strips from Forever Green. However, we can say that this ingenious patch has countless enthusiastic users worldwide and convinces many people every day, again and again. And especially for the European market, these POWERstrips have been further developed with an even more refined formula, recognisable in the red design. This change in formula means that POWER STRIPS can now also be offered as aromatic patches.
FGXpress Powerstrips are used successfully in many areas – including professional sports. And POWERstrips patches can also be used in the medical field (doctors, physiotherapists, alternative practitioners, occupational therapists, etc.). The number of customers in the medical and therapeutic fields is growing steadily, as is the amount of positive feedback from users of the FGXpress POWER STRIPS.
News report on TV about the POWERstrips