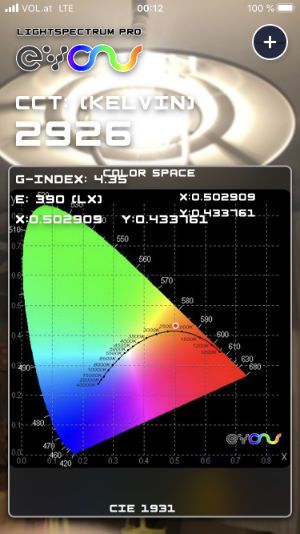 With Lightspectrum Pro EVO the smartphone becomes a light meter to measure the light colour temperature in Kelvin.
This app is unique. So it enables the smartphone as a light meter for the analysis of light or bulbs. This app is available for iOS (iPhone and iPad) and Android.
We can recommend this software in addition to the flicker meter LiFli, because in the bundle both the flicker value and the light color temperature can be measured very economically.
Lightspectrum Pro EVO for iOS
The manufacturer describes this app as follows: With LightSpectrum Pro EVO you can measure the color temperature of a light source without spending hundreds of dollars on professional equipment. LightSpectrumPro EVO has an error of 2-8% compared to existing professional products on the market.
In addition to Kelvin color temperature measurement, LightSpectrum Pro EVO enables the display of the color spectrum of the light to be examined in a band from 360 nm to 800 nm. In addition to the spectrum, it is possible to display the position of the white point in the CIE 1931 diagram and apply a wavelength filter to superimpose a specific frequencyFrequency is the number of occurrences of a repeating event per unit of time. It is a physical measurement that is important for describing periodic processes, such as vibrations. More and intensity on the image captured by the cameras.
Available for download for iOS and Android. Powerful smartphone with high quality camera required.
Changelog from 4.0 until the last update until december 2019 (iOS)
4.0.6
GUI improvements
Added panel with Kelvin value indicator
Fixed a bug that blocked the calculation of the color temperature value on some devices
Minor bugs fixed
4.0.5 vom 16.09.2019
introduced the measurement of the concentration of blue lights, indicated with the G-Index value that represents the quantity of wavelengths of the colors of light ranging from 350 to 550 nm with respect to the intensity of the complete view. The G-index, indicates the shift towards red or infrared spectrum, therefore a low value of G indicates a large percentage of blue lights, a value greater than 2 indicates that the light under examination has a low concentration of wavelengths between 350- 550 nm
4.0.4
stability improved
improved accuracy
4.0.3
stability improved
greater compatibility with the new devices
solved minor bugs
4.0.2
Stability improved
Added support for new devices
solved minor bugs
4.0
The new version of LightSpectrum Pro Evolution changes its look, the new interface improves the user experience, and the new color space chart panel with white point indication has been added to the new features.
Improved stability and resolved some bugs found on new devices.
LightSpectrum Pro Evolution