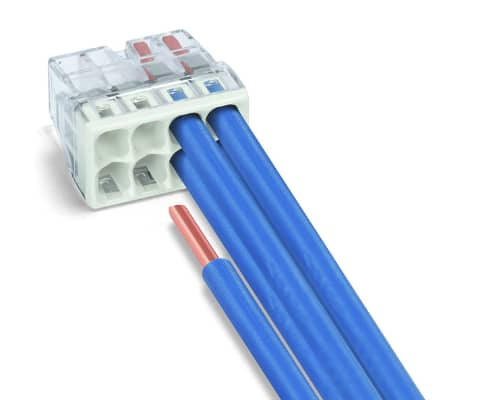 WAGO compact splicing connector, model 2273-208, for 8 conductors.

Suitable for connecting the drain wire of the shielded electrical cable to the shielded flush-mounted box or cavity wall box. Due to the five entrances, however, the entire electrical installation is the main focus here.

The shielded flush-mounted box or cavity wall box contains a potential connection line. This line must be connected to the two-wire of the shielded electric cable or sheathed cable and this splicing connector (as well as the 2-conductor variant) can be used for this purpose. A simple, fast and effective solution.

Basically, the 2273-20x model series of WAGO compact splicing connector can be optimally used for all electrical wiring. Strictly speaking, the classic connector block with screw fixing has now had its day. The level of technological development in this area is now too great: plug in a solid conductor cable ("push it in") – and that's it! Fiddly handling with a screwdriver is history. Thanks to this simplicity, WAGO compact splicing connectors are ideal and predestined for all cable connections within the house wiring and also for connecting our shielded ceilings and wall lights.
That's how you connect today!
Easy handling: push in
8-conductor splicing connector (also available as 2-conductor and 3-conductor)
Installation of solid conductors
Convenient conductor connection from 0.5mm² to 2.5mm²

Significant time saving
ACTION NOTES
CONNECT LADDER
APPLICATION
COMPACT SPLICING CONNECTOR

The connector can be used for up to 8 (depending on the model) solid conductors 0.5 … 2.5mm² – and without tools!
That's how it's done:
Strip solid conductor to 11 mm / 0.43 inch (see marking).
The transparent housing shows if conductors are fully inserted; within the colored base, a clear port shows if the conductor's strip length is correct.
Conductors are correctly stripped if the clear port shows no bare conductor on the unprinted connector side. Picture shows center conductor with exceeded strip length.
Termination: Insert stripped solid conductor until it hits backstop.
Removal:
Hold conductor to be removed and twist alternately left and right while pulling the connector.
Testing:
Testing via test port opposite to conductor entry.
Documentations and downloads
Technical data sheet
Connecting and groundingGrounding is an electrically conductive connection with the electric potential of the ground. More shielded cables and boxes