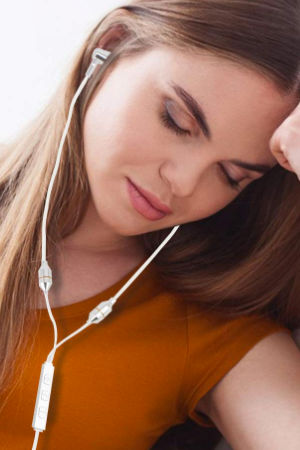 Tuisy Air Tube Headset creates stereo sound without EMF strain on the head with this special aerial cable technology! Compatible with iPhone, Android and more.
Free your head of permanent electrosmogElectrosmog is a colloquial term for all emissions from electric, magnetic, and electromagnetic fields. More by electromagnetic pulses and magnetic fields relayed through the headphone cable and produced by two integrated speakers in the headset.
♬ Patent-certified EMF protection
Patent-certified by the authoritative WIPO, USA & Germany. The unique Airtube anti-radiation technology effectively eliminates 99.9% of EMF radiation and prevents headaches, insomnia, dermatitis and other EMF-related illnesses. Perfect for all people, including children, pregnant women and office workers, etc.
♬ Exclusive anti-radiation technology
Sound cavity free of magnetic field, as no speaker in the earphones, air hose isolated magnetic field & radiation source and metallic shielded wire prevents the transmission of high-frequency electromagnetic waves to achieve the optimum anti-radiation effect that conventional earphones never possess!
♬ Universal compatibility
Tuisy Headset uses the international standard port (CTIA) with high quality 3.5mm jack plug, compatible with most audio devices. Should the terminal (eg smartphone) no longer have a jack plug input, then a jack plug adapter is necessary.
♬ Perfect sound quality
Tuisy's high performance microphone headphone, unique dual sound concentrator and noise-canceling rubber earplugs provide perfect low-bass stereo sound and clear communication experience. The soft and drip-proof earplugs also provide a comfortable and safe feeling!
♬ Easy Volume & Calls control
Simple function keys on the headset allow easy sound control and free hands from answering and ending calls.
❤ 18-month unconditional refund or resend for quality issues.
Technical details and scope of delivery for
Tuisy Air Tube Anti Electrosmog Stereo Headset with microphone
Unique radiation-free technology.
Sound cavity free of magnetic fields, as the speaker is missing in the earplug. One of the goals of the AirTube technology to prevent possible damage to eardrum and brain from the outset by these strong magnetic fields.
The Air Tube insulates both the magnetic field and the radiation source. Furthermore, in the judge application additional distance between the mobile phone and the human body is created.
Metal-shielded wire prevents the transmission of high-frequency electromagnetic waves and thus ensures further optimal radiation protection.
Included in delivery: Air hose headset, spare earplugs, 3 pairs (one built-in, two spare)
Note: Keep the Tuisy Radiation-Free Headset away from sharp tools to prevent damage, cuts, or scratches on the air hose.
Video about AirTube Headsets