Recognizing fault zones through water veins or developing a source of water for a drinking fountain or a heater are completely different requirements. Before, searching for wells by dowsing was man's "secret" work and vital for keeping cattle alive in the Alps – the construction of the drinking trough on a source.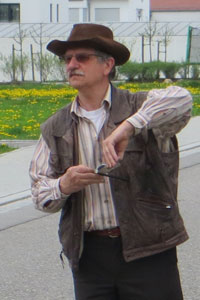 This dowsing seminar promotes and demands the radiesthetic talent and knowledge in all geobiologists. This seminar on dowsing the special PROnatur24 award "demanding, instructive and fascinating" – a secret mandatory seminar for all geobiologists!
Seminar contents: dowsing
Our geobiologist, Jiri Polivka, gives a special seminar on dowsing for all those who are interested in the topic. In this seminar, you will learn about the incredible applications of the dowsing rod and you will gain experience and confidence in handling the rod as a tool. Jiri is a geobiologist and is responsible for the source search of the Bavarian municipality and the water authority, among others.
The dowsing seminar serves as an in-depth extension of the advanced Geobiology & Radiation protection seminar.