The T98 shielding paint is unbelievable. Sensation and technological innovation in one. For the first time, an absorbing effect has been integrated to the reflection of impacting radio radiations!
GEOVITAL's shielding paint is the undisputed "QUEEN" of shielding paints in the shop. No compromises were made by GEOVITAL while developing this TOP shielding paint. Only materials with the chance of maximal shielding capacity were accepted. The development of the T98 shielding paint was redefined in 2016 to bring it up to date with the latest technological advances, and that where the sensation came in. The fundamental functional principle of shielding had expanded to a shielding paint for the first time in the laboratory.
Reflection is the technological function principle of shielding paints, in other words, radio signals are thrown back and reflected. This is enough for the previous generations of radio transmissions, but a shield should work for many years in the form of a massive reduction of radio pollution. With the T98 shielding paint, this principle extends to absorption technology. Simply put, this means that up to 15% of the radiation is no longer reflected but absorbed by the shielding paint and actively weakened as a result.
The result of this new shielding technology in paints speaks for itself. Sensational 50 dB of protective attenuation was achieved for the first time – this is a shielding effectiveness of 99.999%. Before then, the maximum protective attenuation that was achieved with shielding paints was a high 46 dB. The difference between that and 50 dB seems small, but it is enormous. One must consider that increasing the attenuation by "just" 1 dB, from 45 dB to 46 dB doubles the shielding power. And with the latest generation of GEOVITAL's T98 shielding paint, we now increase that by 4 dB to reach 50 dB – the shielding power has been doubled four times!
Convincing properties of the T98 shielding paint
The T98 shielding paint has an acrylic base. As a result, T98 is breathable, solvent-free, odorless and has extremely low emissions. Furthermore, T98 can easily be applied to a dry, grease-free and solid surfaces with a commercial roller. The shielding paint is applicable inside as well as outside. A two-coated application on the surface is vital for the maximal 50 dB attenuation. The process is the same for all shielding paints that contain graphite. First, the first coat is applied. As soon as it is dry, the grounding tape is prepared and applied. The second coat of T98 and the final wall color follow.
Radio pollution from mobile phones, mobile Internet, WLAN, DECT, GSM, LTE, and many more is attenuated by up to 50 dB, which equates to an effectiveness of 99.999%. Electric fields from the power supply (alternating fields) are also effectively shielded against by grounding and up to 100% of them can be completely diverted.
We always strongly recommend two-coated protection, which means painting twice. The T98 shielding paint must be grounded!
Substrate: Indoors and outdoors. Very good adhesion on most building surfaces such as dispersion paint, silicate paint, plasterboard, wood, or cork.
Earth: Must be grounded! We highly recommend the self-adhesive grounding tape.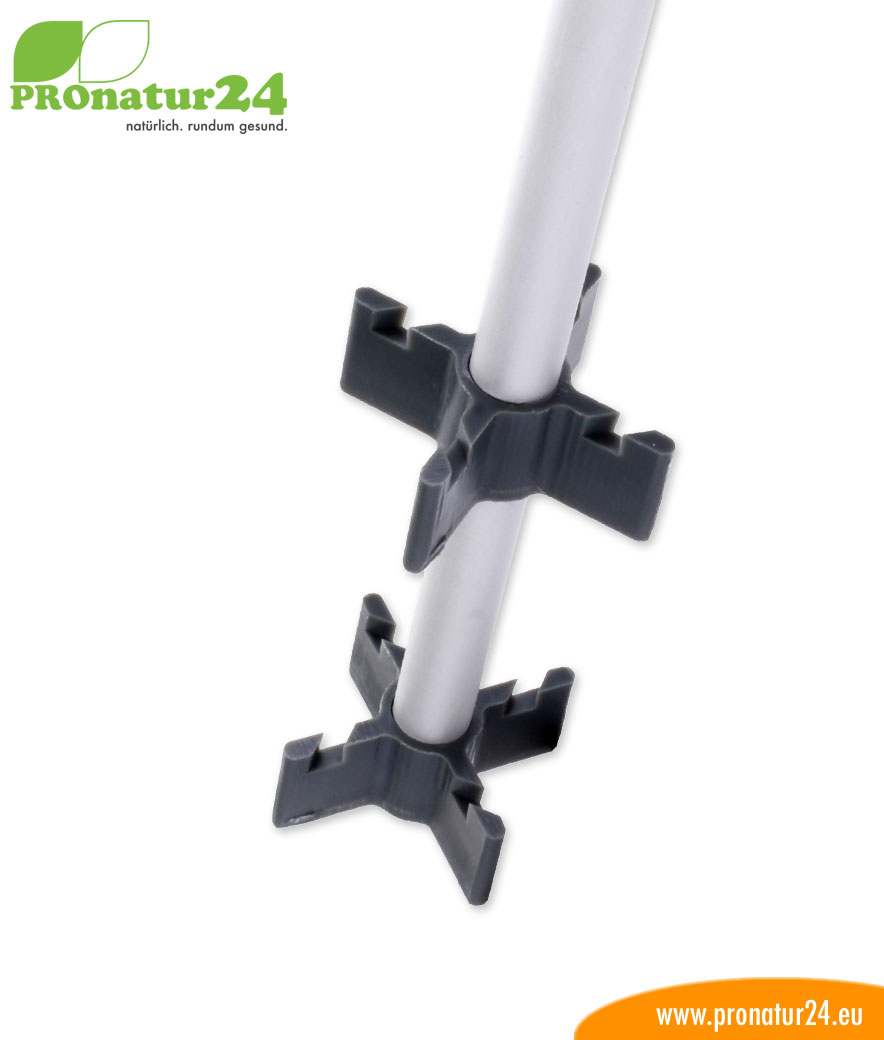 Usage and yield of the T98 shielding paint
Generally speaking, the yield of a shielding paint is necessary depending on the surface. The more the surface "sucks", ie. is colored, the more shielding paint is required. We recommend conducting small tests to see how quickly the paint "enters". We highly recommend using our primer because that will prevent an excessively-high usage of T98 shielding paint. The "average" yield is based on a "non-sucking" surface.
Up to 20 m² per 5 liters for two coats of T98 is enough for interior use

Up to 15.0 m² per 5 liters for two coats of T98 is enough for exterior use

Based on our experience, we know that around 10 liters of T98 are needed to shield an average-sized 15-18 m² bedroom with adequate preparation of the surface with a primer.
You need to mix the T98 shielding paint extensively before applying it. The heavier ingredients will have sunk from storage and transport, and this must be corrected. With the stirrer developed by us, it is possible to effortlessly and effectively re-mix and re-apply the T98 shielding paint. Simply insert it into a standard electric drill and mix for around 5 minutes per container. There should be no more solid remains of the solid ingredients at the bottom of the container – these would make the shielding less effective because they wouldn't be put on the wall, but they'd remain in the paint bucket.
Stirrer for shielding paints
GK5 primer
Mandatory grounding of the T98 shielding paint
All electrically conductive surfaces must be grounded by a qualified electrician in accordance to the DIN/VDE regulations. This can be done over the electrical system's grounding support (ground contact in the socket) or on the grounded heating pipe of the wall heaters (radiator). A protective circuit also needs to be installed in the fuse box. It must be noted that the circuit must be turned off before painting – a 230-volt, 16-amp shock can be deadly! The electrified flush-mounted box must be a centimeter away when painting the wall.
Electrical alternating fields can be grounded, contrary to mobile radiations (high-frequency) which are based on reflection and cannot be grounded as a result. A protection against mobile radiation is also based on reflection whereby the electromagnetic radiation is prevented from entering the room.
The T98 shielding paint shields against both emissions by grounding and reflecting electromagnetic radiations.
Self-adhesive conductive grounding tape for shielding paint
Conductive carbon fibers as an invisible alternative to the ground tape
T98 shielding paint technical information
Screening attenuation
2-coated up to 50 dB. This means a highly-effective shielding of up to 99.999%.
Yield
Interior: up to 20 m² per 5 liters two-layers; exterior: up to 15 m² per 5 liters two-layers
Substrate
Interior and exterior. Very good adhesion on most building surfaces such as dispersion paint, silicate paint, plasterboard, wood, or cork.
Application
Outdoor walls, ceilings, indoor walls, floors
Earth
Must be grounded! We highly recommend the self-adhesive grounding tape.
Ingredients
Water, graphite, pure acrylate dispersion, carbon black, additives, MIT/ BIT preservatives.
Technical details
VOC content: 0.2 g/L (the EU limit for the A/a category is 30 g/L since 2010). Shelf life: 6 months. Color: black.