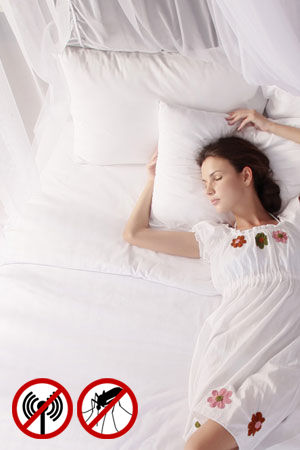 No longer in our portfolio. HERE you can find our new shielding fabrics.
GEOVITAL NOVA is a half-transparent curtain fabric to shield against high-frequency electromagnetic radiation (HF).
Typical use as drape, curtain, or canopy fabric. Best suited to windows and bed canopies because of its high light transmission.
Not suited to shielding and grounding electric fields from power supply lines!
The length calculation is done in running meters. A running meter is 2.5 meters in length and 1 meter in width. The fabric is delivered in one piece, cut from the roll for the customer after ordering.
Polyester with a wafer-thin 0.02-mm silvered copper thread that has been spun in PU.
Properties of the NOVA shielding fabric
NOVA is a high-quality, translucent, half-transparent polyester fabric with all of the textile properties. The material consists of
washable up to 30 °C
colorfast
antistatic
foldable
crease-resistant
easy to iron and sew
Do not bleach!
No dry cleaning!
NOVA shielding fabric technical information

Material: Polyester / Metal – Silver – Copper
Materials: 83 % Polyester, 16 % Copper, 1 % Silver
Color: White
Width: 250 cm, +/- 2 cm
Length: 50 cm, +/- 1 cm
Weave: Screen
Surface: NOT conductive
Screening attenuation: 35 – 43 dB for 0 – 8 GHz
Dimensional stability: +/- 1 %
Grammage: 78 g/m² with lead tape (Gram per square meter)
Light, sewn in lead tape for a natural "fall" caused by tension
Öko-Tex 100, Class 1
Grounding of NOVA not possible
Cannot be contacted, and therefore cannot be grounded. Low-frequency electric fields (LF) must be reduced through additional methods. We recommend shielding with T98 shielding paint or activation with a Vitalklick mains cut-off switch.
NOVA attenuation
The shielding has been measured by the University of the German Armed Forces in Munich according to the MIL-Standard 285, IEEE -STD 299-1997,
VG-Standard 95 370-15, KS03 standards and confirmed in a report.
NOVA care instructions
Wash very gently with mild or wool detergent at 30°C. Iron without steam the first time.
Do not bleach. No dry cleaning.
Examples for the number of running meters of NOVA shielding fabric
Window
For a curtain on the window (2 m), 4 running meters of NOVA shielding fabric will be needed. To get the usual corrugation of a curtain, the number must be multiplied by at least 1.5.
Canopy for mounting
For a canopy on a single bed (200 x 100 cm) with 50 cm legroom, you will need up to 8 meters of NOVA (4x sides und 1x ceiling). The benefit here is that you are able to get up without directly touching the canopy. Automatic additional benefit: protection against mosquitoes.
Canopy for out and about (holiday)
Here, the ceiling can be spared because everything above will be "bundled" without any legroom. As a result, the canopy hangs onto the edge of the bed. For a single bed (200 cm x 100 cm), 6 meters of NOVA will be needed and around 8 meters will be needed for a double bed (200 cm x 200 cm). Automatic additional benefit: protection against mosquitoes.
No cancellation for the NOVA shielding fabric

Like for cuts, there is no right to return the NOVA shielding fabric.

Please note that cancellations do not apply to these products, because they were cut to the customer's specifications. Reselling a tailored item is no longer possible. For this reason, it is possible to request a free sample of the NOVA shielding fabric. By ordering pre-finished products, waiving the statutory right to return goods is accepted. We only sell the highest-quality fabrics! Because of the high production costs and a favorable price, small flaws are not grounds for complaint.