ANTIWAVE Women's Clothing: Protection and Comfort combined. With the NEW ANTIWAVE material, our underwear effectively protects against electromagnetic smog HF – up to 30 dB (99.9% protection efficiency). Perfect for those sensitive to electromagnetic smog and wanting to wear protection discreetly under their clothing.
Discover the NEW ANTIWAVE shielding fabric: A perfect blend of effective protection against electromagnetic smog HF, wearing comfort, and durability. This material was specially designed for crafting protective garments and undergarments. NEW ANTIWAVE is a fine Jacquard knit made from a blend of finely combed cotton and silver-coated polyamide.
It features a coating of 20% pure silver, which fully encases the polyamide. As a result, NEW ANTIWAVE does not contain the often controversially discussed nano-silver. Metallic silver is entirely safe for both humans and the environment.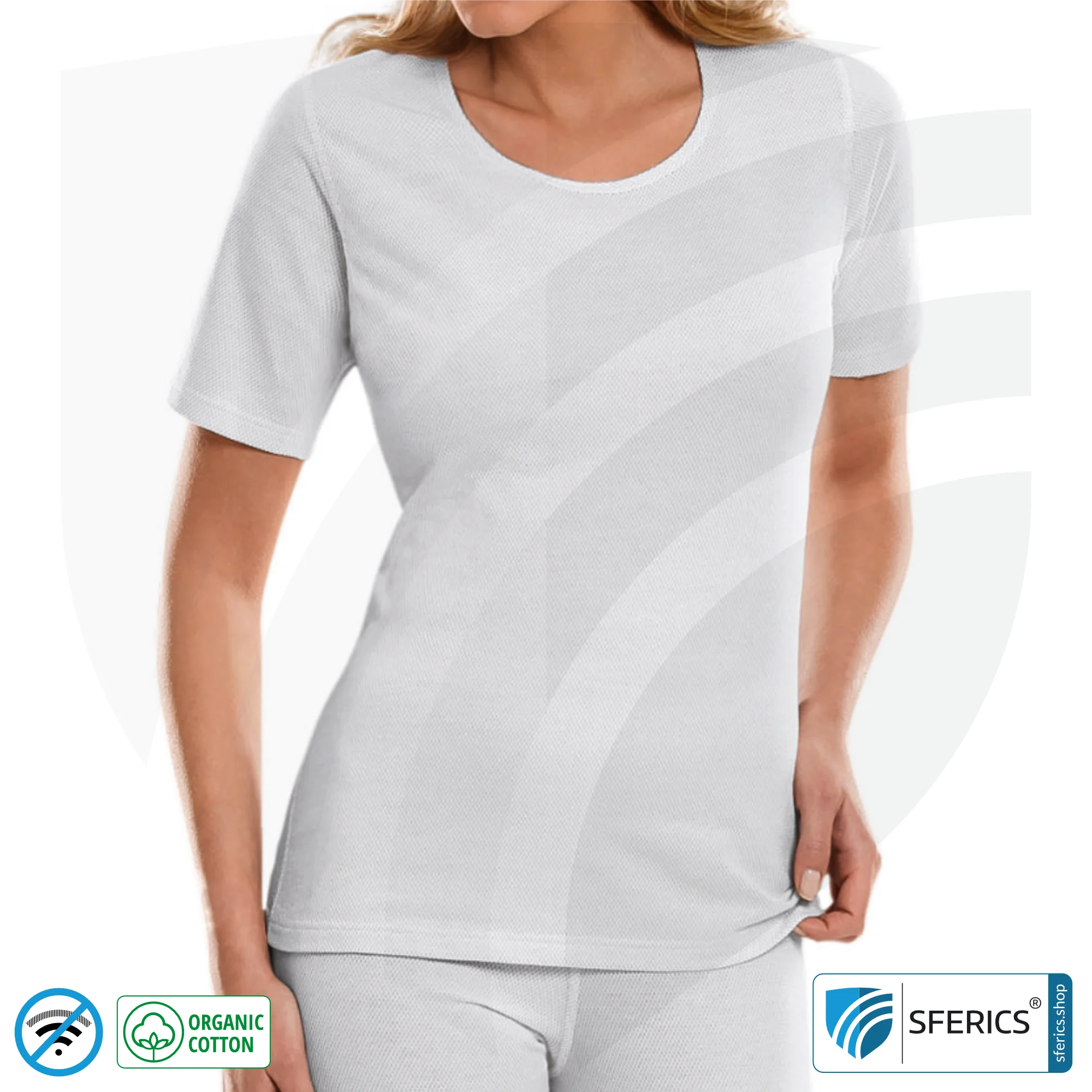 An Overview of Protective NEW ANTIWAVE Clothing
Exceptional comfort, ideal as daily underwear or undergarments!
Efficiency thanks to the thoughtfully combined materials – 89% cotton, 9% polyamide, and 2% silver. This blend and the outstanding craftsmanship ensure easy care of the ANTIWAVE EMF products.
Fine jacquard fabric, composed of refined cotton and silver-coated polyamide.
Thanks to the pure silver coating of the fiber, there are no skin irritations. Without the use of nanosilver!
Pure silver has antibacterial properties and can be supportive in addressing skin issues, excessive sweating, and body odor.
Just like our other mobile radiation protection solutions, the protective ANTIWAVE clothing is an excellent addition to comprehensive EMF shieldingShielding is the protection from the effects of external fault zones and environmental influences (on a person's health most of the time). More, e.g., through a shielded bedroom or a protective canopy. However, mobile protection products should never be seen as the sole substitute for comprehensive EMF protection. When used correctly, items like the ANTIWAVE clothing provide effective protection on the go, both for individuals particularly sensitive to electromagnetic smog and for anyone wishing to guard against it in general.
Available ANTIWAVE clothing for women

ANTIWAVE Textiles: Women's Apparel Offering Protection and Durability
Adaptable for a myriad of scenarios. Whether at home, on holiday, or during business trips – ANTIWAVE clothing always provides reliable protection. It can be worn externally as a light sweater or discreetly underneath other garments such as blouses. What about nighttime protection? This too is easily achievable, serving as the top of a nightwear or pajama set, worn directly against the skin.
The innovative design of the fabric combined with the use of top-quality materials offers protection against electromagnetic radiation in the range of 20 kHz to 10 GHz with an efficiency of >99.9%. This has been confirmed by a report from Prof. Pauli of the Bundeswehr University in Munich.
ANTIWAVE textiles are easy to care for!
Undergarments of especially easy-care quality. A high-quality finish ensures that the shielding properties are maintained even after multiple washes. Due to the antibacterial effects of silver, washing at 40°C is sufficient.